II Season
Part 3
We were now in the post-war years. In 1946 and 1947, members of Congress traveled to Europe, and were surprised at the poor reputation of the United States abroad. However, they attributed this situation to clever Soviet propaganda, which had to be countered.
In January 1948, Congress therefore passed the Smith-Mundt Act in order to set up a cultural program, the aim of which was to present to the world, and in particular to Europe, an exact idea of ​​the United States: "if the other peoples understood us, they would love us, and if they loved us, they would do what we want them to do "(Oren Stephen," Facts to a candid world ", Stanford, 1955).
In the same way this move was encouraged by President Truman who, in March 1950 (the year of the Soviet atomic bomb and the defeat of the Nationalists in China), launched an operation, "Campaign of truth," while twelve senators, in April of the same year, passed a resolution proposing "a Marshall Plan in the field of ideas". Likewise the Cold War and the War of Ideas were intensifying.

Also improving the image of the United States became the number one goal of American propaganda, and avant-garde art, in fact, was totally American. It is therefore he who should seduce the European elites.
However, the École de Paris still enjoyed a certain prestige in the United States. "Is there an American art?" The Magazine of Arts wondered in 1949. Clement Greenberg (we will talk about him again), like other critics, thought that yes, that there was a real pictorial art. American.
On the other hand, the question posed by the listened critic James T. Soby was: who would have a sufficient charismatic personality to lead the troops, was open ? "We have not produced in painting and sculpture," he said, "any figure large enough to attract the attention of the world and, inevitably, others of lesser stature who would unite around him. However, a curious fact about art giants gives us hope: when you find one, the rest easily follows. We therefore await this giant of sculpture and painting, certain that he will eventually appear, and others after him "(" Does our art impress Europe ", Saturday review, August 6, 1949).
Finally two days later, on August 8, an article appeared in Life, which, changing its stance on avant-garde painting, made Pollock this hero.
In fact American art had become too expensive, some critics noted, because the standard of living in America made it three to four times more expensive than in Europe. However, to be able to export his art, an artist needed a "dealer", and this one was not going to export if the price did not correspond to the demands of the market. The solution was therefore to appeal to the federal government.
"Today," Soby wrote, "we are engaged in a vital struggle to help the peoples of Europe regain their strength, and to persuade them that we have the same desires and goals as they do. One of the accusations made against us in this fight is that we are a rich, vast and powerful nation, but a nation that cares neither for the arts nor for spiritual values. Politically, we are accused of practicing "dollar diplomacy", and on the cultural front American films are cited as the worst examples of our materialism. To refute this propaganda, we need all possible means of communication ". Pollock will lead the charge.
War in the American market
Indeed a double battle had to be fought first to impose the American vanguard: on American national territory first and then internationally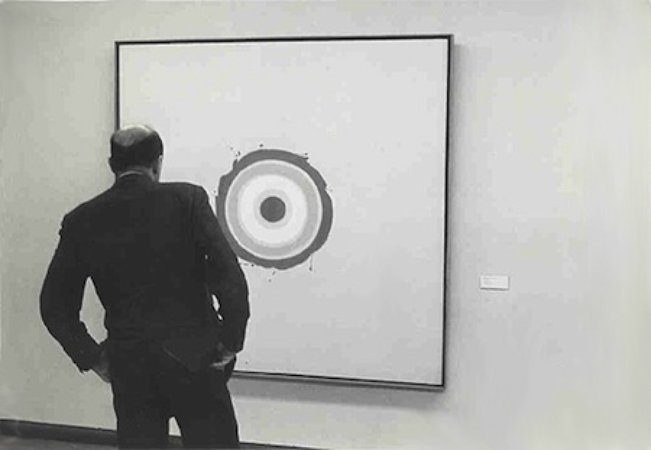 Currently it is Clement Greenberg, that American critic whose name we have already mentioned, polemic theorist of modern art, staunch defender of abstract expressionism, author of a famous article, "Avant-garde and Kitsch", published in Partisan Review and of a book "Art and Culture", published in 1951, friend of Pollock and defender of Dubuffet, which was sufficiently aggressive and self-confident to question the supremacy of "Parisian art", claiming that Jackson Pollock and New York had taken the place of Paris.
Of course, not forgetting politics, Greenberg, a former Trotskyist, took the opportunity to violently attack Stalinism, the line of the Communist Party and its vulgar conception of realist art. It was, moreover, Clement Greenberg who said that "one day it would be necessary to say how anti-Stalinism, which began more or less with Trotskyism, became" art for the sake of art ", and consequently opened the way, heroically, to what was going to happen ".
An English poet, Stephen Spender, hit the nail on the head with an article published in the New York Times on April 25, 1948: "What strikes me as realistic today is to expect nothing from propaganda and political hype, but to show to Europeans the enormous achievements of American civilization in matters of education and culture. Publicity, propaganda seems to be the easiest, but it has no effect on a continent which has been, for many years, saturated with skillful and devilish propaganda on the part of Germany. and Russia ".
But in order to prevail, Abstract Expressionism needed first to move from nationalism to universalism, and then to win the battle on American soil.
The transition from nationalism to universalism took place in two stages.
First, we had to get rid of the concept of national art of the 1930s, too provincial an art; "The idea of ​​an isolated American art, so popular in this country during the 1930s, strikes me as absurd, as the idea of ​​purely American mathematics or physics would seem absurd," Pollock wrote.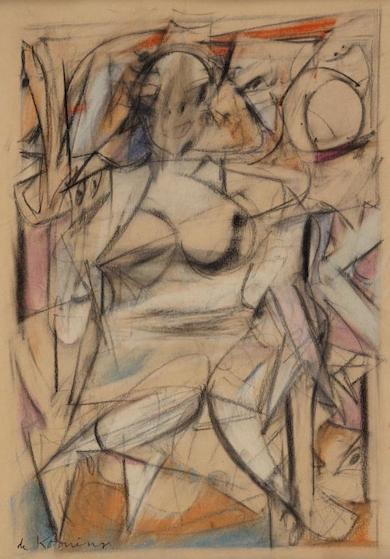 Adjacent we moved on to universalism, American art being described as the logical outcome of an inexorable tendency towards abstraction. What was American in painting was described as universal and representative of Western culture. The French taste for "finishing" was replaced by American "force" and "violence", and Pollock was described by Greenberg as "one of the most important painters of our time." From this point of view, post-war American culture became equivalent to its economic and military might, and the United States was entrusted with the defense of freedoms in the "free world".
Furthermore it was necessary to get rid of American artists who were not fully representative of this line, in particular those who still defended "Parisian modernism". An episode from 1951 illustrates this strategy well.
Besides in the immediate postwar years, there were three excellent artists who exhibited at the Kootz Gallery, the most famous of the avant-garde galleries. These three artists were Carl Holty, Romare Bearden, and the cubist Byron Browne; but they were too closely linked to the École de Paris.
After 1948, to be a good painter you had to be an abstract. Without care, these three painters were eliminated from the Kootz Gallery in 1951, marking the victory by K.O. of Greenberg and the "Club", an avant-garde café. The non-Abstract Expressionist painting like that of Holty, Bearden, and Browne then fell into disuse at the Gimbel's department store: they were sold at a loss, and all collectors rushed to get rid of them. On February 19, 1952, Byron Browne had a heart attack… Kooning, Pollock, Gorky then exhibited at the Venice Biennale: they had won.
And after…
Serge Guibert's book, "How New-York stole the idea of modern art", ends with these words: "abstract expressionism was so firmly anchored in European minds that revolted French students used it on the walls of Nanterre in 1968, to express their alienation and their desire for freedom. Paint as ejaculation is what a poem scribbled in chalk on a wall said: "the porridge you forced me to swallow when I was a child: I send it back to you on your wall." Was this "action painting" at work? Was it finally folk art, the real wall art dream of Jackson Pollock? (**) "
The rest of this serial: The Cold war of art.
ON Line in WUKALI, Friday March, 5th
(*) Sources :«Comment New-York vola l'idée d'art moderne», Serge Guilbert, Pluriel 1982

Publishing Calendar
À l'aube du XXIéme siècle
by Jacques Trauman

Saison 1
La « French Theory » et les campus américains
Episode 1. Erudition et savoir faire. Jeudi 25 février
Episode 2. Citer en détournant. Vendredi 26 février
Episode 3. Le softpower américain. Samedi 27 février

Saison 2
Comment New-York vola l'idée d'art moderne
Episode 1. Du Komintern à la bannière étoilée. Mardi 2 mars
Episode 2. En route pour la domination mondiale. Mercredi 3 mars
Episode 3. L'apothéose de Pollock. Jeudi 4 mars
Episode 4. La guerre froide de l'art. Vendredi 5 mars

Saison 3
Aux sources du softpower américain
Episode 1. Guerre froide et « Kulturkampf ». Mardi 9 mars
Episode 2. Quand les WASP s'en mêlent. Mercredi 10 mars
Episode 3. Ce n'était pas gagné d'avance. Jeudi 11 mars
Episode 4. Un cordon ombilical en or. Vendredi 12 mars

Heading: Jackson Pollock in his workshop. Photography published in Life